Welcome to Laboff (M) Sdn Bhd - Laboratory Fittings Manufacturer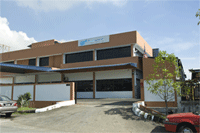 The

range has been developed to give lab designers and installers maximum flexibility to meet the clients needs and provide a safe environment for users in schools, colleges, universities and industries. Our Technical Support Service is ever ready to assist you in the selection of our products for your applications.

is one of the lab fittings manufacturer which produces high quality range of like emergency eyewash, emergency shower, gas fittings, fume cupboards, laminar flow, safety storage cabinets and other lab fittings to meet the requirements of modern laboratories.
All our products have passes the strict test of SIRIM MALAYSIA BERHAD and PSB(TÜV), SINGAPORE. Certification are issued and quality are guaranteed.
News & Events

March 7th - 10th 2011. Visit us at Booth 1004
ARABLAB 2011 has achieved a dynamic growth which has resulted in a new level of quality and recognition.
The only trade show for the Analytical Industry that reaches buyers from the growth markets such as the Middle East & Africa and the Indian Sub-Continentas well as China & Asia
ARABLAB is the largest technology show serving the Middle East & Africa.
ARABLAB is the technology showpiece for the Indian Sub-Continent.
ARABLAB is the shop window for buyers from China & Asia.
A dynamic sales platform to global markets as 55% of business generated at the show is sourced from outside the Arab world.
Connecting people from over 75+ countries,ARABLAB showcases the very latest lab and instrumentation equipment from the world's leading manufacturers.


Lab Asia 2011 Putra World Trade Centre September 27th - 29th 2011 . Visit us at Booth 3E20